Single Column Vertical Turret Lathe VL518E   
As a specialist of Single Column Vertical Turret Lathe Model;VL518E , SJR Machinery Co., Ltd. can offer you comprehensive selections of goods in this industry

DESCRIPTION
Specifications
Package
Feature:
a. Turning the internal and external cylindrical surface and plane

b. Turning internal and external conical surface,

c. Grooving

d. Head face

e. Severance
Advantage of vertical lathe machine
a Working table adopts hydrostatic guide way.

b.The spindle is to use model NN30(Grade D)bearing and able to turn precisely.

c.Gear case is to use 40Cr gear wheel of gear grinding,which has high precision and little noise

d.Plastic coated guide ways are wearable

e.Casting of lathe are to use lost foam foundry(short for LFF)technique.Castings are wearable with good quality and dealt by aging.
Name

Value

Max. turning diameter (mm)

800

Max. height of workpiece (mm)

800

Max. weight of workpiece (t)

2

Table diameter (mm)

720

Speed range of table (r/min)

8~250

Table speed steps

16

Max. torque of table (KN.m)

12.5

Max. cutting resistance of rail head (KN)

20

Max. cutting resistance of side head (KN)

15

Total cutting resistance (KN)

31.5

Travel of rail head (Horizontal) (mm)

670

Travel of rail head (Vertical) (mm)

650(5-position turret)
800(1-position ram)

Travel of side head (Horizontal) (mm)

500

Travel of side head (Vertical) (mm)

810

Travel of cross rail (mm)

580

Range of feed rates (mm/min)

0.8~86

Rapid traverse of rail head (mm/min)

1800

Swivel of rail head(°)

±30

Elevating speed of cross rail (mm/min)

660

Power of main motor (KW)

22

Overall dimensions (L×W×H) (mm)

2187*2711*3230

Weight of machine (t)

6.8

Main electrical components

Schneider electrics

PLC controller

Mitsubishi PLC controller

DRO brand

Taiwan Wanhao
Standard accessories
NO

Name

specification

Quantity

1

Chuck jaws




4

2

foot screw

M24X500

7

3

hexagonal nut

M24

7

4

Gasket

M24

7

5

Hexagonal wrench

S=95







Hexagonal wrench

S=30




6

S=3.4.5.6.8.10.12.14




7

Square socket spanner

S=20

1

8

Square socket spanner

S=24

1

9

Tool holder




1

10

Boring bar




1

11

Taper hole cutter bar




1

12

Leveling base




8

13

Oil gun

200cm3

1

14

Sealing ring

30

2

Sealing ring

40

1

Sealing ring

B-40

1

Sealing ring

C-40

1

15

secondary filter net

100μm

2

16

triangular belt

C1800

6

17

Oil absorption net

100μm

1

18

Box spanner

30-32

1

19

Money spanner

250

1

20

Working lamp




1

21

DRO manual




1

22

Machine manual




1

23

Accuracy test




1

24

Packing list




1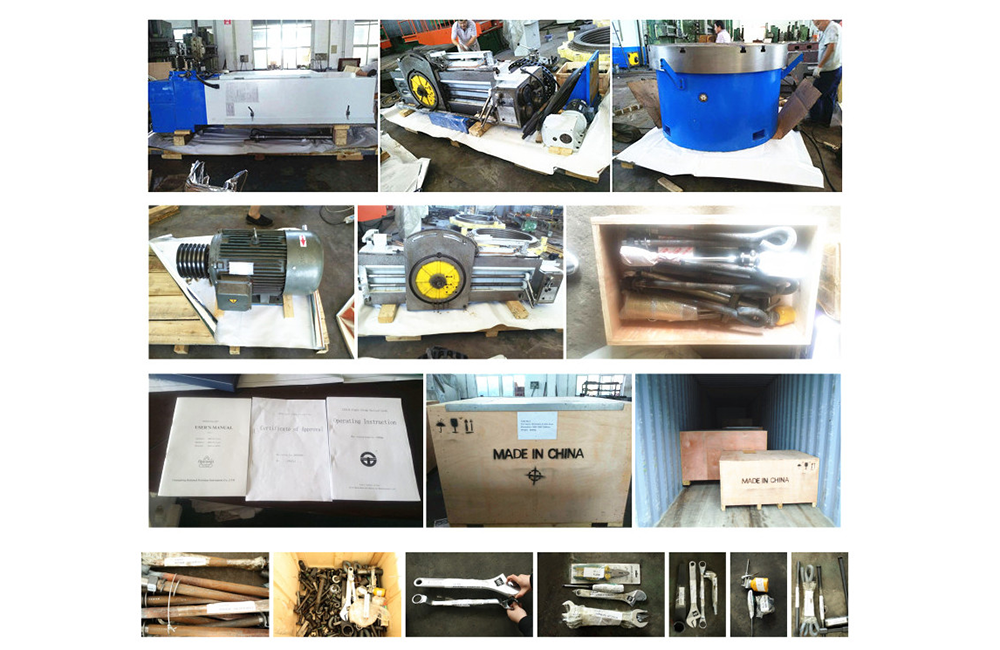 With fumigate wooden cases. Vacuum treatment is provided. Containers needed for the machine transportation:1*20 OT(whole package) or 1*20GP (separate package)
Feedback form contact with us