CNC Surface Grinding Machine
As the best China CNC Grinding Machine supplier,SJR Machinery Co., Ltd. provides quality CNC Grinding Machine to global clients

Our machine use 2 axes ganged CNC surface grinding machine.It is a advanced machine which have high performance,wide processing range and high efficiency Advantages.
Our machine mainly used in black metals,nonferrous metals and some of nonmetal material parts grinding process.It can rough and fine grinding surface,slot,arc surface and complexity hook face processing.
Our machine have high load-bearing,high precision,high stiffness,long life time,high shock resistance and unfailing performance and many other advantages.
Full enclosed splash guard design.It can well isolate dust and machining spray which produced by grinding processing.Automatically recycling lubrication system.It can recycle reclamation to achieve environmental ,cost saving and other advantages.
Our machine constituted by machine bed,table,saddle,column,head,feeding device, electrical system,operate cabinet,hydraulic system,full enclosed splash guard and other parts.
Machine guide way:
All of our machine guide way use "V"type +flat type .The moving guide way stuck a layer "TURCITE-B",we called it plastics sticking guide way.It can achieve wear-resisting and increase life time of the guide way.And the flat guide way have grinding and scraping process.
Lubrication system:
Automatically recycling lubrication system.It can supply lubricate oil for all of the guide way.
Files:
Operate manual 1 list
CNC system operate manual 1 list
Electrical drawing 1 list
Packing list 1 list
Qualified certification 1 list
Machine overall dimension and working site requirements: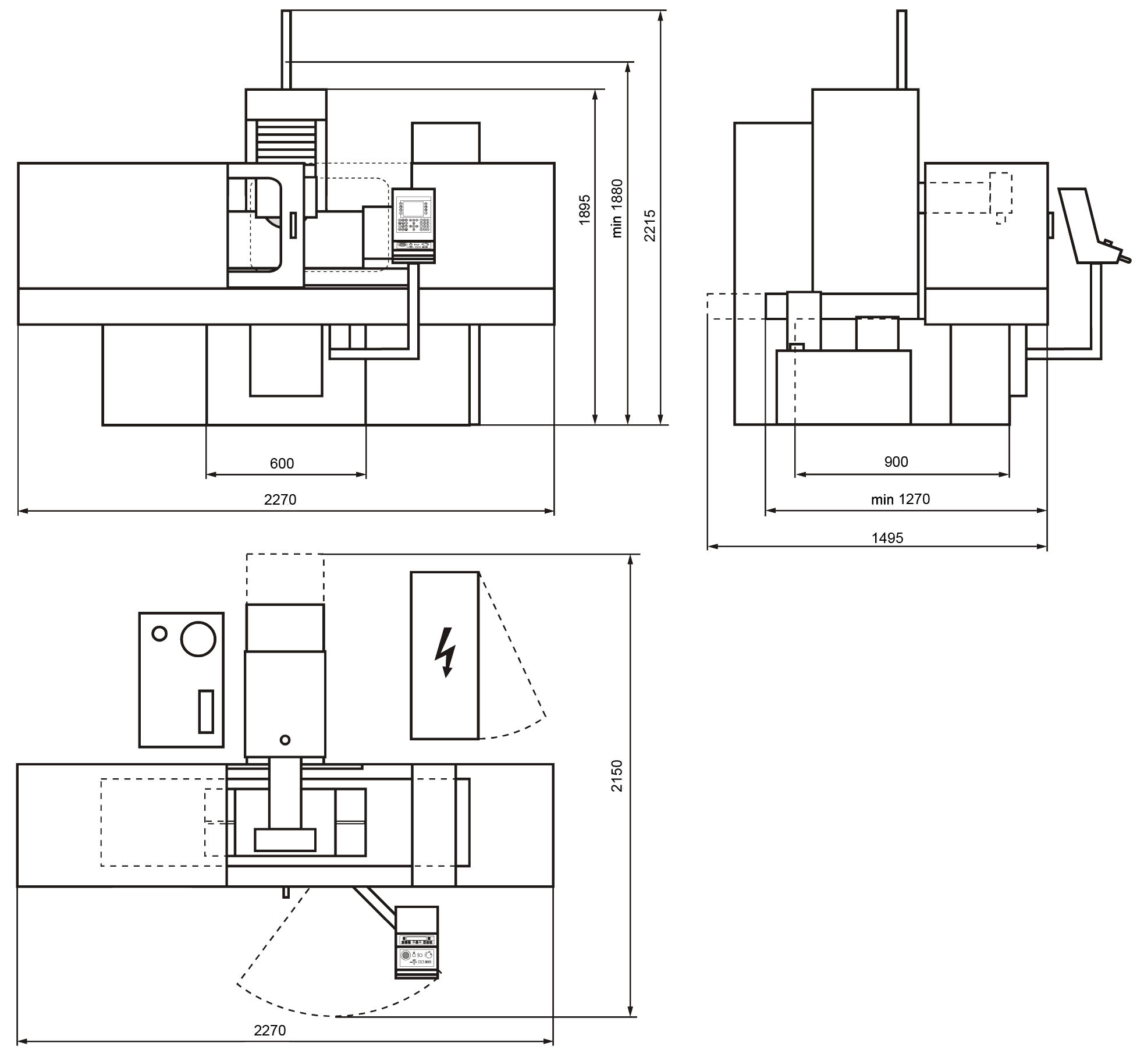 *The column screw protecting cover use to protect the ball screw. It can be taken down when in transit.

Machine locating needs room size, contains room size for operating:
Long:4700mm
Wide:3700mm
High: 2000mm

Machine net weight:About 6000kg

We reserve the right to modify the design, specifications, etc. to improve the machine performance without notice.

Parameters

Unit

KGS510CNC-2

Grinding length

mm

1000

Grinding width

mm

500

Grinding height

mm

375

Max. table load

kgs

700

X-axis longitudinal movement

Table motion

mm

10~1100

Table speed

m/min

1~28

Power of hydraulic motor

kw

2.2

Table drive mode

Hydraulic drive

Table speed control mode

Use potentiometer in the button panel

Y-axis vertical movement

Distance table to grinding spindle

mm

140~600

Vertical speed

mm/min

1~4500

Power of servo motor

kw

1

Min down feed

mm

0.001

Vertical feed drive mode

Ball screw drive

Vertical feed moving control mode

MPG handwheel or button

Z-axis cross movement

Cross motion max

mm

500

Cross speed

mm/min

1~4500

Power of servo motor

kw

1

Min cross feed

mm

0.001

Cross feed drive mode

Ball screw drive

Cross feed moving control mode

MPG handwheel or button

C-axis grinding spindle

Power of the grinding spindle motor

kw

11

Rotation speed of the grinding spindle

min

1000~2400

Grinding wheel standard

mm

400×50×127

Floor space

mm

4000×3300
Standard accessories:
| | | | |
| --- | --- | --- | --- |
| 1 | Grinding wheel | 2 | Wheel flange |
| 3 | Wheel balancing base | 4 | Wheel balancing arbor |
| 5 | Extractor | 6 | Diamond dresser |
| 7 | Leveling pad | 8 | Anchor bolt |
| 9 | Tool box with tools | 10 | Electric chuck(500×1000mm) |
Optional accessories:
| | | |
| --- | --- | --- |
| Serial No. | Name of article | Unit price |
| 1 | Magnetic separator | ¥2600.00 |
| 2 | Cooling magnetic paper filter | ¥7200.00 |
| 3 | Suction device | ¥5000.00 |
| 4 | Diamond roller wheel dresser | ¥20000.00 |
| 5 | Hydraulic oil cooling device | ¥5000.00 |
Main configuration of grinding machine:
Ⅰ. Spindle motor: Use ABB brand from Sweden.
Ⅱ. Spindle bearing: Use NSK brand P4 grade precision ball bearing from Japan.
Ⅲ. Cross and vertical screw: Use P5 grade precision ball screw.
Ⅳ. Main electrical components: Use SIEMENS brand.
Ⅴ. Main hydraulic components: Use brand from TAIWAN.
Ⅵ. Hydraulic motor components:Use brand of WEG which from Brazil.
Ⅶ. Long distance control valve:Use Germany import brand HAWE,it can achieve precision location and control table move speed in the button panel.
Ⅷ. Servo motor (Y and Z axes) components:Use SIEMENS brand.
Ⅸ.CNC control system: Use SIEMENS 808D.
Feedback form contact with us